"NEW SOUNDS OF ACOUSTIC MUSIC", 2020
Young guitarists contest, open to fingerstylists, acoustic bands, inside Acoustic Guitar Village, 25th-26th-27th September 2020.
The contest will take place inside the Acoustic Guitar Village in Cremona Musica on Friday September 25th, Live Stage 2 outside the pavilion of the AGV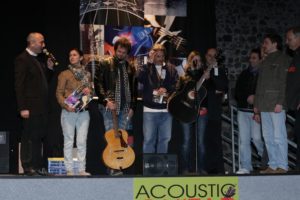 Performers:
……………………………. 

Jury formed by:
Andrea Carpi (giornalista), Reno Brandoni (Fingerpicking.net), Marino Vignali (ADGPA), Letizia Canale (Acus-sound), Sara Kismet Del Bubba (Armadillo Club), ……………… (guitarist), ………(luthier)
The best  performers will win musical instruments and accessories offered by Acus-sound Engineering and others
Welcome to the New Sounds of Acoustic Music in Cremona!